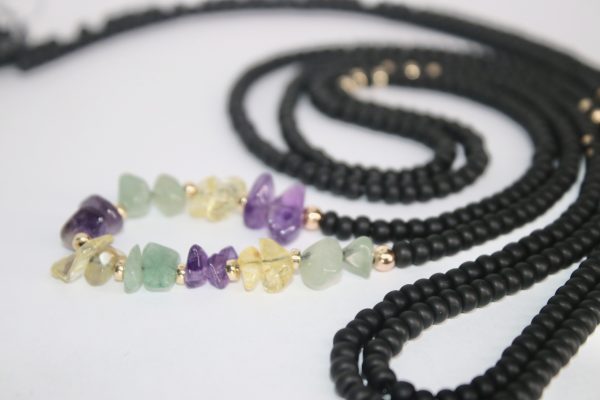 $199.00
The easiest way to know your vision is REAL and it's your time to MANIFEST.
You've seen your vision many moons ago.
Even if no one else realizes it…
you know can feel this burning truth in your heart:
Time has come to open yourself up to a new breakthrough.
I created this strand for the goddess seeking to MANIFEST healing, clarity, peace, wisdom, prosperity and love ❤️
Perfect for the queen that wants to tap into  her manifesting power to create real life transformation.
Tie the knot with MANIFEST Waistbeads if
✨ you are getting out of a rut and need to feel more grounded and certain.
✨ you want to attract and welcome life changing prosperity.
✨ you want to become more in touch with your true purpose so you can manifest on a higher level.
My MANIFEST Waistbeads feature:
👑 10k gold filled beads for prosperity speckled between the strand and throughout a beautiful crystal center piece.
💵 Green avertine crystals for good luck and abundance.
✨ Yellow Citrine for confidence to manifest your intentions without fear.
🔮 Purple Amethyst to inspire intuition for improved visualization and vivid dreams.
Surrounded by Matte black to help you feel grounded.
Are you ready to MANIFEST?
MANIFEST Waistbeads start shipping Nov 15