The Moment of Truth….
"Ms. Smith the doctor will see you now." I slowly rise out of my seat completely fearful of what's coming next.
"Before the doctor sees you we'll need to get you vitals so hop on the scale and let's get started."!
[products_slider cats="20″/]
The moment of truth was upon me, I slowly step on the scale and watch the number increase until it stops at 195lbs
How could this be? I've been eating right (I think) and exercising daily.
195 ?? There has to be a mistake…How did I let my weight get that out hand… again? 😡
Leaving the doctor I felt completely defeated. Despite going to the gym three times a week and committing to healthier eating habits, I am still gaining weight! 😔
When things got bad…
Surprisingly, most of my young life, I was pretty slim. It was in 2012, my junior year in college, when my life, and weight, took a turn for the worse. In the middle of an already overwhelming semester, I learned my Father had passed away. (R.I.P. Carlos)
My heart was heavy, so… I let myself go; and gained nearly 30lbs in the process. Ever since then, managing my weight has been a challenge. Therefore, overcoming my weight became especially significant to me.
The picture below is me, at Binghamton University (2011-12) :
Maybe you couldn't tell, but I remember feeling completely insecure about my body around the time this picture was taken. It'd gotten to a point where I'd been depressed, and afraid to buy, (and try on) new clothes.
Regaining my Confidence
In 2016, I was introduced to Herbalife Nutrition. When I began the program I was 190lbs, at that time it was highest my weight had ever gone. After being on the program for a month I dropped 20lbs. I was overjoyed. I never thought that I would be able to drop that amount of weight in such a short time.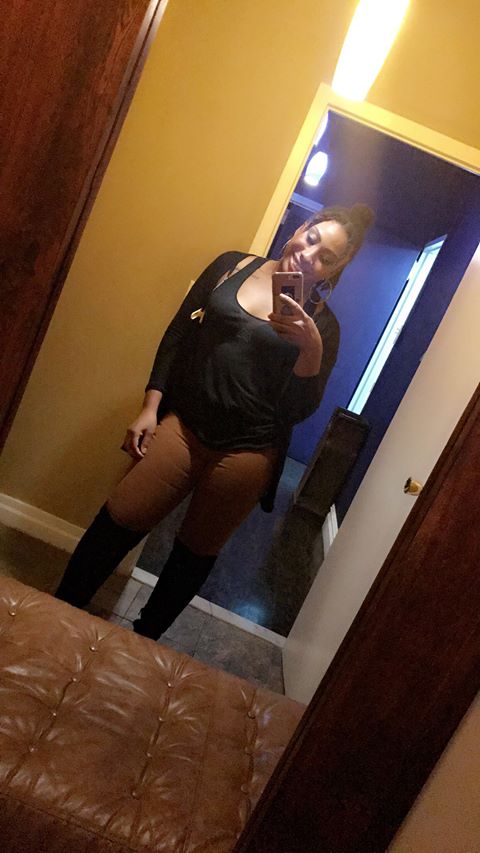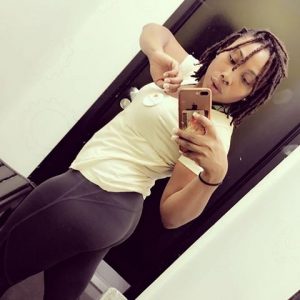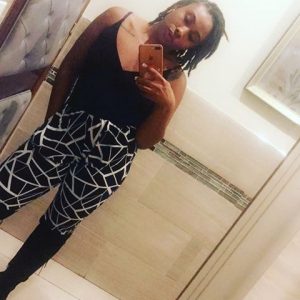 Getting Pregnant…
Fast forward, one year later, I was pregnant and back to being "big". Throughout my pregnancy I feared I would never return to my pre pregnancy weight. I was right. After having my son my body didn't "snap-back" and I was extremely discouraged.
The doctor told me that breastfeeding would help me to drop my weight faster; but it didn't. And even worse, it felt impossible to get back into my pre-pregnancy workout routine, with my newborn bundle of joy constantly attached to me.
Over the last month my body weight has fluctuated and as a result I've experienced a roller coaster of emotions. Despite consistently going to the gym, I couldn't gain control of my fluctuating weight. Every time I stepped on the scale my heart broke a little more. Were my effort even worth it? Maybe I should just be comfortable in the body that I'm in?
I realized something. The scale was the root cause of my misery!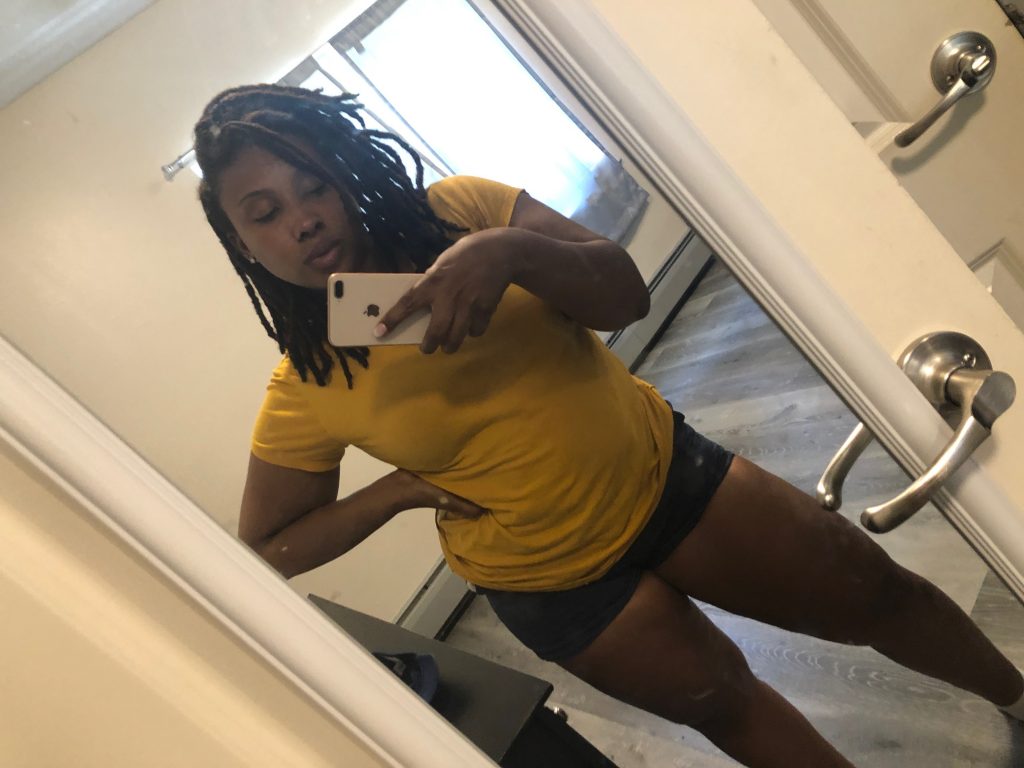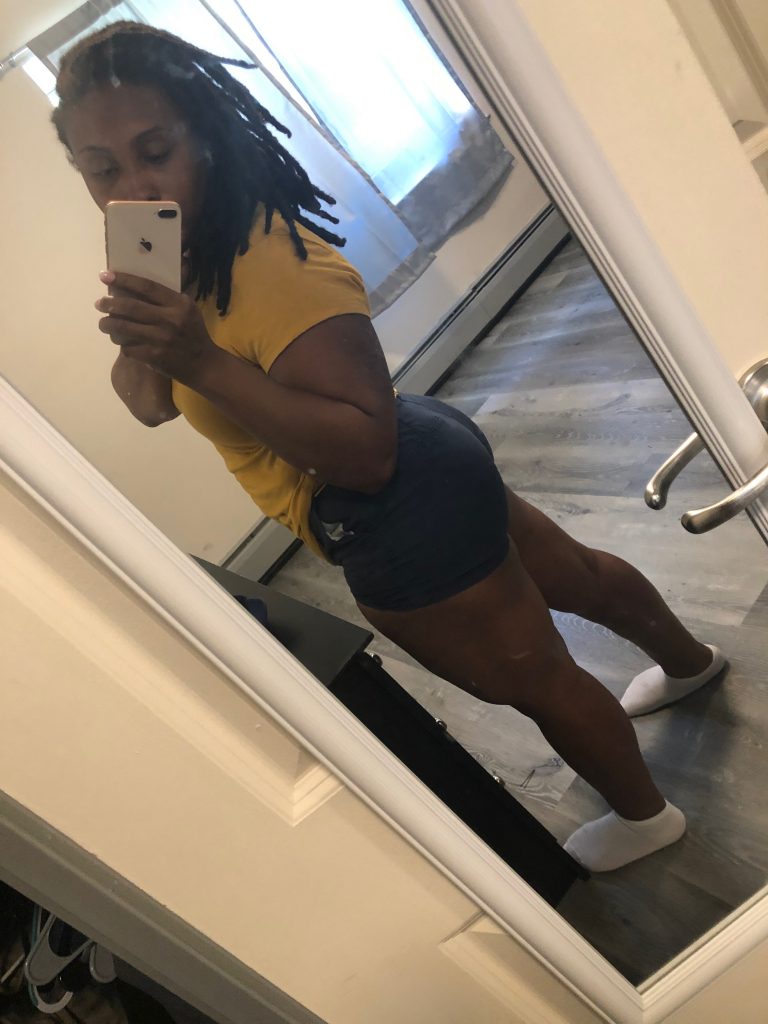 I knew that wasn't what I really wanted. I wanted to be fit and in the best shape ever but the scale just wasn't my friend.
But then I realized something. The scale was the root cause of my misery. I would look at myself and see progress but the number on the scale didn't reflect the same thing. I decided to throw my scale away.
I decided to focus on results, apart from the numbers on the scale; Specifically, my other more important measurements, like my waist line. I noticed that, despite a climbing number on the scale, my waist line was shrinking. And that excited me, even if the scale wasn't cooperating.
Finding Myself
I decided to start over. I had spent too many months living with self-doubt because of the scale numbers. Overcoming insecurities about my body, as a woman, required for me to look at myself; instead of my weight. Who am I? And how can I accentuate that, while still being open to improvement?
Since the 15th century African women have been using waist beads to promote a curvier waistline. Instead of counting numbers on a scale, they measured their progress by the size of their waists.
Learning that resonated with me, especially as a Black woman. It's a part of my history, and therefore, a part of who I am also. But, more importantly, I had become fond of tracking my own fitness progress by my waist measurements (regardless of weight).
[products_slider cats="20″]
Giving Waist beads a try:
In June, I started using waist beads to track my fitness progress. Rather than obsessing over the scale numbers, I measured my progress by how loose my beads felt on my waist.
By the time July had arrived, it was time for me to remove a strand of beads (more on this later). It had become so big that it dropped below my hips!
This was the best change in my fitness journey that I have ever made. I no longer fear the number on the scale. My waist beads help me to keep track of the small but important milestones (losing inches in my waist). Not only did it help me keep track of my progress – it helped me to feel feminine and sexy.
Stop watching the Scale… Start Manifesting
My advice for any woman (especially mothers) trying to build a better body: stop fearing the scale! Start manifesting body positivity and self love, regardless of your weight. True progress can be connected to how you look and feel. Pay more attention to your body. Focus on improvement, instead of "losing weight". Embrace your strengths and weaknesses. It's the only way to push yourself forward.
My goal is for this belly fast to be gone by October!!' I'm up for the challenge, who wants to join me?
Check out my waistbead collection
[products_slider cats="20″]